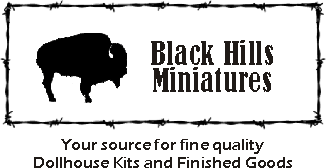 Sanding sticks - Take a popsicle sticks, craft sticks or (unused) tongue depressors and glue various grades of sandpaper to the end of them. These make great, cheap sanding sticks, ideal for those hard to reach spots.
If your scissors are sticky from cutting items that have been glued, use Goo Gone or other citrus cleaner to remove the adhesive.
Goo Gone is also an excellent way to get polymer clay off your hands. Just wash your hands with some grease cutting dish washing detergent after the Goo Gone.
When using CA adhesives (aka Super Glue), don't apply directly from the bottle. You might apply too much, and you can't just wipe it off like ordinary glues. Take a small piece of aluminum foil and put a few drops of the glue on it. Then use a toothpick or microbrush applicator to apply small amounts of glue to the item. When done, throw away the foil and toothpick.
If you're going to paint a furniture kit, glue it together first, then paint. If you paint first, the glue won't bond well to the painted surfaces and your project could fall apart sometime. If you are staining the project, stain first, then assemble. Excess glue on the bare wood will prevent the stain from soaking in properly, giving an uneven finish.